Shadow Machine
An interdisciplinary performance produced by Co. Erasga Dance &copy 2010. Showing October 20 - 30 at W2 Community Media Arts in Vancouver.
Choreography by Alvin Erasga Tolentino. Media Artists: Peter Courtemanche, Ken Gregory, and Carol Sawyer. Dancers: Billy Marchenski, Molly McDermott, Jane Osborne, Bevin Poole, and Alvin Erasga Tolentino.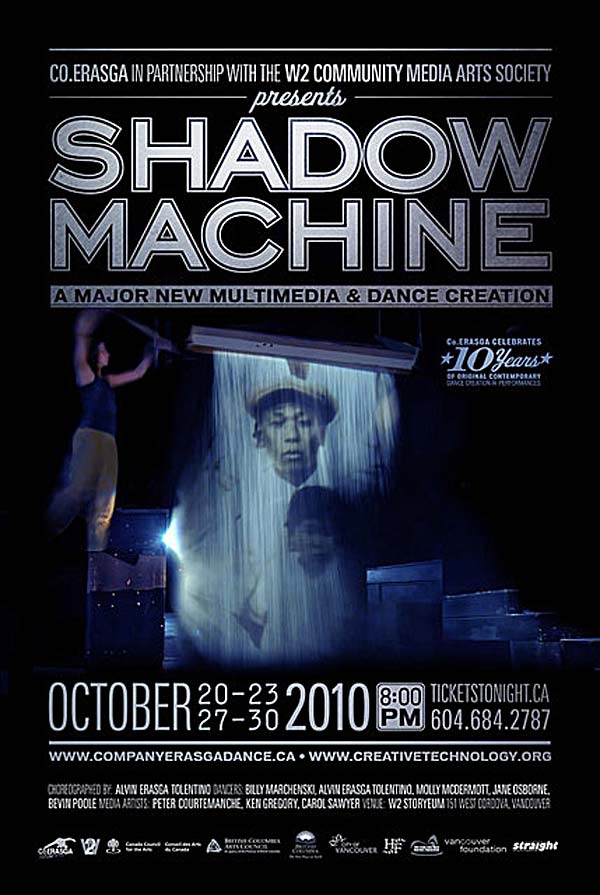 The Shadow Machine is an inter-disciplinary performance that incorporates dance, audio, video, photography and inter-active technologies. It is inspired by the shifting histories of Vancouver's industrial development in the early 20th century and juxtaposes those ideas on to the post industrial here and now. Part analysis, part celebration and part social cultural comment, the Shadow Machine seeks to engage audiences with a unique interpretation of Vancouver's diverse and often hidden history.
Born in the 1870s, Vancouver has undergone rapid growth and huge economic shifts. The shipyards, lumber mills, fish canneries and other industries that once dominated the city's ragtag shoreline are all but gone. The big wood shed industrial structures that once housed the majority of people's jobs, the log booms and sawdust burners, have been replaced with cement and glass condos and office towers. The things people do for a living now are for the most part radically different then the jobs that employed Vancouver's citizens one hundred, or even fifty years ago, and the way we walk and move our bodies is different as a result. The sounds of the city are different: the cacophony of machine shops, shift whistles, and ship horns have quieted, replaced by the roar of traffic and the soft clacking of keyboards.
With an eye to this evolving industrial history, Shadow Machine looks at the parallels between utopian dreams from the early 1900s and similar predictions about the benefits of Information Technologies that are espoused today. At the beginning of the 20th Century, when Vancouver was first stirring, access to cheap hydro electric power enabled the rapid development of new industries and the promotion of many utopian dreams. Electricity promised to make labour easier and safer; people would have more leisure time; and the emergence of global communications would bring an end to war. By drawing from a rich local history, Shadow Machine reflects and criticizes the utopian view of technological progress while at the same time seeing the potential for some dreams to come true.